With driving schools being so popular, parents have trouble finding a good school for fresher driving lessons. With many courses offering reasonable prices, why not take advantage of them? For many parents, the best thing they can do for their children is to ensure they learn as much as possible from an excellent driving course.
Improving your driving skills
Several driving schools in Beckenham offer these courses, and that's no surprise. They know what it takes to teach drivers and how to motivate them through tests. Some courses might even be similar to others. That's why it can be so beneficial for someone looking to improve their driving skills, to take advantage of one of these types of lessons.
Driving school fees
The school providing these private lessons will often ask you to pay some sort of fee as well. This might be a one-off fee, or it could be a monthly charge. What you have to remember is that you don't need to pay this fee every time you take an online refresher driving course. The cost is for a particular course only. And usually only at the beginning of the course.
Fees usually vary greatly depending on the course you go for. Some of the basic types of training include: defensive driving, basic and advanced road laws, and traffic education. 
It's important to remember that even if you're looking to get some more advanced driving skills, you might still want to choose to have them taught by a qualified instructor. Even in a defensive driving course, a driver can make mistakes and miss out on important information.
Searching for refresher courses in Beckenham, BR3
In addition to using the internet to look for refresher courses, you should also use your local phone directory to look up schools in your area. You can then use the online booking facility of the provider to confirm the classes you wish to take and sometimes get some further details on how to pay for the courses. 
It's always a good idea to ask a lot of questions about your chosen course and instructor before you commit to anything.
One thing you should always remember when taking up an excellent driving course is that it has to be for you, not just for your child. In most cases, you'll find that there are fewer tests, and perhaps even lesser demands from the parents. This is to ensure that you're safe as well as ready. It's not suitable for everyone, but the benefits can be enormous for any parent.
When you first decide to take a refresher driving lesson, there might be things that you'll do differently to try and get a feel for your new skills. After a while, you'll get a feel for what it takes to get the hang of driving safely, and how much better you'll be in the future. There will be things you'll miss, but your willingness to learn will be worth it.
Driving can be a gratifying pastime, but only when it is safe. A course in safety will ensure that you're always aware of what's going on around you. And of course, how to react in the case of accidents. It'll also be a benefit to all of those you pass on the road too.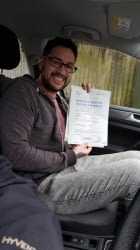 Latest posts by elsdrivingschool
(see all)