Driving schools in Beckenham can be a good choice, as long as you know what to look for when you are doing your research. There are many wonderful schools here, and one of the things you need to do is take a few minutes to find out which one best suits your needs. Here are some top tips for finding good driving schools in Beckenham.
When looking for the best driving school for you, it is important to do some research so that you can determine which one is the best one for you. There are several ways to go about this, but one of the most helpful ways is to do a quick Internet search on your school of choice. This will give you a better idea of how good or bad the school is, so you can make the right decision.
Starting your search for a good driving school in Beckenham
Some people don't like to do this because they just want to get the information out there because they want to make a big impact, but the truth is that there is a large number of these Web sites that are not very useful. One example is the Yellow Pages. The Yellow Pages only lists non-chain schools. That means that the schools are listed but not very easily found, which makes it harder to find out which school is right for you.
In addition, many of these online services tend to be very biased. That means that they will only put in schools that are reputable. That doesn't mean they aren't good, but you need to really take a look at the reputation of the school before you get into a formal agreement with them. Sometimes these driving schools pay for promoted adverts, meaning they are ranked higher up than other schools. However, this does not mean they are the best.
Reading driving school reviews
That is the good news. You should find a list of the best driving schools by searching for the term "driving school reviews." These sites are constantly updating their lists so that they will be up to date. So, you will have the latest information on the best schools out there.
Because of this, it is really easy to find out which driving school is the best one. If you follow the directions for finding the lists, you will find that you are given all the tools you need to research on your own and find the best driving school out there. So, you can spend your time enjoying the driving lessons instead of fighting through this process.
Ask people you know about their driving lessons in Beckenham
Another thing that you can do is to simply ask the people that you know about their experiences with the schools, and you can also talk to the car insurance companies to see what they say. You can learn a lot from the experts by asking around. Once you get a list of the best driving schools, you can easily make your own choice by taking advantage of these lists.
It may sound like it takes a lot of work, but this is actually the easiest way to find out which school is the best one. Just take a little time to find out which of the schools are worth your time and money. By doing this, you will get the best value for your money and you will be well on your way to driving your own car.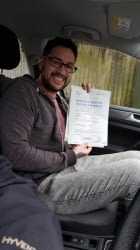 Latest posts by elsdrivingschool
(see all)