Pass Plus Driving Courses in West Wickham, Br4
If
you are considering taking your car out on the road under difficult road conditions such as on a rainy day but lack the confidence to do so, then you need to consider opting for a Pass Plus driving course. So what are Pass Plus driving lessons and what are the benefits if you are to go ahead and take them?
For a learner driver, the driver training course is compulsory for those wishing to take their driving test for a new car or motorbike. In many cases, those taking this course take it in their first year of driving as it teaches you a lot about road safety and all the hazards that are out there.
What is included in the Pass Plus Course
After you pass, there are two types of courses that you can choose from; refresher courses or Pass Plus driving lessons. 
The course includes; 
all-weather, 

night time, 

motorway driving

dual carriageways

town driving

rural roads
These courses teach you all the advanced methods of how to drive and put you through what is known as a 'defensive driving' course.
In the all-weather driving lessons, for example, you will learn to take the wheel in wet conditions and how to use your car in varying weather conditions. In some of the higher courses, you will also learn how to handle the weather better by learning about snow and ice.
It doesn't matter where you are going or how often you have to drive; it would be a wise choice to take further training to upgrade your driving skills. If you are local, all you have to do is take a look at your driving schools in West Wickham to make sure that it covers your area – if you decide Pass Plus is not for you, you should think about taking a refresher course instead.
Refresher Driving Courses in West Wickham
If you are thinking about taking a refresher course, you should look into some of the most reputable driving schools in your area. If they have a good reputation for training drivers, then you can feel more confident that you will get the most out of your test.
So if you have taken and passed your driving test and are thinking about advancing your driving skills, then you should think about taking the Pass Plus driving lessons in West Wickham. They will put you through the required course and help you to improve your driving skills.
A lot of the available courses are mainly dedicated to teaching you the Pass Plus curriculum, although some learners only want to undertake motorway driving. If you can choose to take a bit of time off when taking the full course and try to learn more about driving safely, it would undoubtedly be more beneficial, if you feel like you have more time on your hands.
Defensive Driving Skills
With Pass Plus, you should also think about taking it for the benefits of the defensive driving course. This course teaches you how to react when in an accident situation and also gives you an insight into road safety.
Our skilled driving instructors in West Wickham are here to assist you with anything you need to know about road safety and how to stay protected in an accident. This is an essential course, and it is vital that you take it if you live in the UK.
If you are looking for a Pass Plus driving course in West Wickham, we would be happy to assist you, if you are not local – lookout for the schools that have passed accreditation and have a strong reputation. If you are thinking about taking a refresher course, you should check with the local council as they should have a list of schools offering lessons.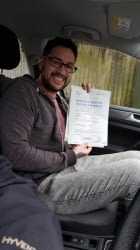 Latest posts by elsdrivingschool
(see all)