Automatic Driving lessons Are Becoming Popular
The people of West Wickham are used to seeing learner drivers on their roads every day. People are attracted to the desire to have cars of their own and at the same time aspire to become car owners. This is not a new story for car enthusiasts. However, there is a growing appetite for learning to drive, thanks to the increasing popularity of automatic driving lessons.
What are Automatic Driving lessons?
It is a one to one lesson that requires no complicated knowledge of the discipline or ability to take regular driving tests (manual car test).
The process of teaching someone to drive a manual transmission car in the UK was first introduced when a number of members of the public expressed a desire to be taught all the way back in 1935. Initially, they were enthusiastic about learning to drive and pass the voluntary driving test. It was found that there was a need for a compulsory testing method that enabled anyone wishing to take the test to meet a minimum standard later that year.
The advantage of learning with a professional driving instructor is that a person's needs are met by these lessons. The role of a driving instructor is to teach the learner how to apply what is being taught. And to make them as independent as possible as quickly as they can. The trainer is then rewarded when that person succeeds.
The downside of auto lessons with family or friends is that the person teaching you can be confident they are giving you proper instructions. However, they are not held to the same standards as a professional driving Instructor. This is where the Automatic Driving Courses come in.
What are the differences between manual and automatic lessons?
Now you do need to know there are some differences. There is no need to use the manual transmission or be taught to use it, as we have discussed. There is no need to use the left foot when you are starting the car in terms of using clutch control, as we do not use a clutch pedal in an automatic. So this makes things easier from the very start.
Now you can sit in your car and learn to drive without the need to use the clutch pedal or the gear lever in tandem. All you need to learn is the technique to move the gear lever in the automatic car into D (Drive), and that's it. In essence, the whole process has been simplified.
What is an Automatic Driving Instructor?
In essence, an auto instructor is a driving instructor that specializes in automatic lessons. Driving instructors will be knowledgeable about all aspects of the car and the rules of the road regardless of the type of car they use.
What to look for in an excellent auto-driving instructor?
Someone that has been involved in driving instruction for many years should be the first thing to look for. Experience makes all the difference in this industry. It takes many years to become a competent instructor and cannot be faked. This also means that they have knowledge about the world of cars.
Most of the time they need to know a great deal about how people think, they need to know about advertising, customer service, how the process works, where it can be bought and so on. They also need to know a lot about the way that each individual learns as everyone is unique and how to activate specific processes in these individuals. It would not be practical for a person to simply drive the car and tell them how to apply the techniques.
It is far more effective for an automatic driving instructor to have knowledge and experience in other fields. However, this does not have to mean that they are any less qualified. Of course, you would want your automatic driving instructor in West Wickham to have extensive knowledge of the local area and should know the test routes and roads inside out.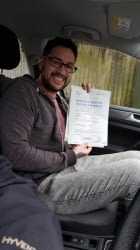 Latest posts by elsdrivingschool
(see all)