Are you considering taking driving lessons? If you are wondering what the benefits of taking driving lessons are, then this article will give you some reasons why you should learn to drive. One of the benefits is that it can help you get a better job or allow you to improve your skills in the field of your choice. Also, with learning to drive, you can be able to earn more money in your life. With this, many people are now seeing the advantages of driving lessons.
There are many benefits that you can take from learning to drive. One of the benefits is that you will be able to improve your driving skills. A person who has learned to drive will be able to take less risks and thus be able to manage traffic better. Learning to drive also teaches you about how to handle different situations in traffic and other road hazards. These can only help you in your career. Also, when you take driving lessons, you can expect to gain valuable experience in handling different situations which are likely to occur on a daily basis. With this, you will know how to take care of yourself while you are in traffic and not cause any harm to others.
Also, you can take lessons to get a job or get a better job. Many employers will still prefer candidates who have experience when it comes to driving. This is because they think that you would be able to handle the job better than those who do not have any experience. This is one of the reasons why you should learn to drive and take driving lessons.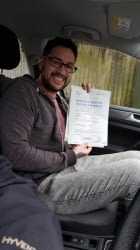 Latest posts by elsdrivingschool
(see all)