Let's face it, time is money; or so they say. And in this modern world, many people don't have the patience they once had. The truth is though, you cannot pass in 2 days if you've never had any driving experience in the past. So, it's easy to get drawn by the thought of getting a full driving licence in just a couple of days training, but the reality is quite different. These courses can be useful to people that have already had a significant number of lessons, and just want a quick injection of training in a short time, or maybe someone who has a foreign licence and is looking to pass the UK test quickly. There are lots of reasons why you should take up intensive driving lessons. Many of the people are less resourceful in terms of time and are not good at driving. There are many instances where people have learned how to drive without being taught by a driving instructor. Some people have never had the opportunity to take up these lessons due to their limited time. Some people with less time can benefit from this kind of program. These people can do very well in this program. They can have much better results with these types of education, and there are lots of advantages in taking these intensive driving lessons.
In an earlier article, I discussed the advantages of an intensive driving course. But first, let's take a look at the big difference between weekly lessons and intensive driving courses.
Weekly vs Intensive driving lessons
When your local driving school is offering weekly lessons, you can use your time to work on anything you want, and take your time with your learning. You can spend time working on the areas where you think you may struggle and keep practicing until you get it right.
On the other hand, when you take an intensive class at your local driving school, you are required to pick things up quickly. With these classes, you are doing something to improve your driving skills, but you are not allowed to do anything else.
How long do intensive lessons take?
You will need to stay for a certain period of time, such as 20 or 30 hours in the intensive driving courses and to take the test. Although it is possible to take longer or shorter courses.
If you are looking for a way to improve your driving skills and make yourself a safer driver in the shortest possible time, then you should look into taking an intensive driving course. These classes are much different from what you can do when you are at your local driving school.
You can expect the same instruction as you would receive from a local driving school, but you will be expected to reach the driving test standard in a short time.
Most people who take an ordinary driving course often end up being better drivers than they were before they took the course. The only difference that comes about with them is that they can learn without feeling rushed or interrupted.
What are the advantages of Intensive driving courses?
There are several other advantages to taking an intensive driving course. One of the most significant benefits is that when you take an intensive course, you will usually see an improvement in your reflexes and driving skills right away. However, there will be some that will feel this type of training is not for them.
You need to get accustomed to the intricacies of the driving, and you need to understand the signals that the car sends. You also need to understand the mechanics of your vehicle. Without this, you cannot know which factors to use for safety and which ones to use for manoeuvring the car safely.
If you have decided that you want to improve your driving skills very quickly, then consider taking an intensive course. It may just be the improvement you have been looking for. However, this is a very individual thing, and you will need to think about whether you can handle this kind of pressure in such a short time.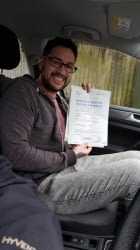 Latest posts by elsdrivingschool
(see all)