Is it really necessary to take driving lessons before the theory exam? Many people ask this question, as many are not confident in their driving skills. As a result, most people go for the first step of driving lessons only to fail the examination. There is absolutely no point in doing that, especially if you do not believe in yourself anymore.
Driving is an important part of life, especially if you want to be a safe driver. You will have to get your license from the state you live in or at least be a licensed driver for a while. Even those who have already been driving for years can have some trouble passing the exam because they have poor driving skills and habits. If you are a new driver and want to be able to drive on the road without any difficulty, then it is a good idea to take driving lessons before taking the practical exam.
Good driving lessons should be taken before the theory exam. It will help you to know all the parts of a car and will make the driving experience more enjoyable for you. You will also get enough time to familiarize yourself with the different aspects of driving that will help you prepare properly for your test.
The most common reason why people fail their driving test is lack of training. If you are going to take driving lessons and fail to pass, then you will definitely have to spend more money to get training. You can even take driving lessons online, but it is not advisable as online courses do not provide you with the kind of real-life experience you need for the exam.
You may feel frustrated if you fail the practical driving skills test because you do not know where to start from. The first thing you need to do is to think about the reason why you failed the exam. Do not just give up because you failed. There are plenty of tips and tricks that will help you get back to your driving career as soon as possible.
Take some time off after you have passed the practical test. You can practice the driving exercises until you feel comfortable with driving. Try practising under the supervision of an experienced driver. By getting proper training before taking the driving lessons, you will be able to pass your practical exam and get your license easily.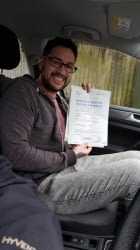 Latest posts by elsdrivingschool
(see all)