Driving lessons and tests have been hit with restrictions once again sadly. The government has announced that from the 20th of December 2020, London will be introduced into new Covid-19 tier 4 restrictions.
This means that driving lessons and driving tests including theory tests will be suspended until further notice.
For any tests that have been affected by these suspensions, will be contacted via email to rearrange a time for your exam shortly.
The DVSA ask that test candidates be patient, as there may be a delay in contact due to the large volume of candidates that will need to be contacted.
A full list of tiers and areas are shown here: https://www.gov.uk/guidance/full-list-of-local-restriction-tiers-by-area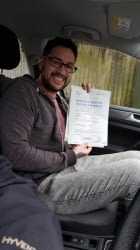 Latest posts by elsdrivingschool
(see all)