3 Reasons Why You Should Learn to Drive
If you've been thinking about taking driving lessons to become a better driver, or if you're in the process of getting your license, then it's time to make that decision and move forward with that process. A lot of people have a misconception that taking driving lessons is an expensive hobby, and while it certainly can be, you don't have to take out a loan to get your license. There are a number of reasons why you should learn to drive.
Freedom and flexibility
The first reason why you should learn to drive is that you may find yourself living in a place where public transport is not available. Depending on where you live, there may be areas where you need to travel for various reasons, such as working, school, or other forms of transport. There are many different reasons why you may need to drive around, and it's important that you know that driving can be difficult for some people.
A skill for life
Secondly, it's also important to note that driving is a very important skill. Some jobs that require you to travel a lot require that you be able to drive, and so if you're looking to make a career out of travelling around, you'll want to make sure that you learn to drive before you leave home. It may seem difficult at first, but by being taught how to drive, you'll be able to make the most of your journey.
For an easier life
Perhaps the best reason why you should learn to drive is because you can buy an automatic car if you want to. Automobiles are very popular, and the choice of brands and models is vast. While there are a few models that come with limited mobility, most cars can be converted into automatic ones and allow drivers to take advantage of all of the advantages that come with using a car that has all-wheel drive.
You can buy an automatic car. This is a great way to get around town with the least amount of effort, which is very important when you consider that most driving lessons are usually quite long and tiresome. If you buy an automatic car, you won't have to worry about driving yourself, and this can be a very liberating experience.
Advantages of buying an automatic car include the cost savings, the use of it during your journey, and the ability to travel in a vehicle that can climb slopes that you might otherwise have to cross. If you need to learn to drive, you'll be able to do so with the use of an automatic car. It's not only a convenient option but it's also easier to drive than a manual one.
Go green
The third reason why you should learn to drive is because many auto cars are also electric. Many cars are electric these days, and this is one of the best ways to save money on fuel. By driving an electric car, you're also helping to reduce the use of fossil fuels, which is great news as a whole.
The benefits of learning to drive an electric car are huge. You won't have to worry about any gas purchases, and you'll also help to fight climate change. With a selection of different models, it can be hard to choose the right car for you, but with the benefits that electric vehicles provide, it may be worth trying out.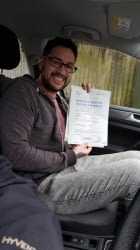 Latest posts by elsdrivingschool
(see all)