New Bromley Driving Test Centre Now Open!
The New Bromley Driving Test Centre is now open and is an excellent choice for those looking to book a driving test. The new test centre is located between Hither Green and West Wickham. You can book your test with the help of the DVSA online booking system, allowing you to apply for the test in a short time. This centre is situated near London and within easy commuting distance from around London and Kent.
The location of the New Bromley Driving Test Centre makes it ideal for those who may wish to take the test on during the week or if available, on the weekend. The Bromley driving test centre offices are open all day on weekdays, so you can go in and have a look around if you wish.
This driving test centre has been in operation for since January 2020, offering the best levels of service for customers. You can expect to be greeted in the bright, welcoming atmosphere of the centre. Many test centres are a bit tired and have outdated literature; however, the Bromley driving test centre is newly refurbished and is an example of how all driving test centres should be.
The first thing you will be asked to do when taking your test at the New Bromley Driving Test Centre is to fill out some simple paperwork and perform an eyesight test. Then you will go through the easy show me tell me test questions, so prepare the same way you have for any other test.
The Show me-Tell me questions knowledge test will be a simple question at the beginning of the exam about the car. You can prepare for these questions by reading our page here on the questions to help you learn the most commonly asked questions on the test. After the first question, you will head off and start the practical driving test. While driving the examiner will ask you the second part of the Show me Tell me question. There are only two easy questions (the second part being on the move), and you must know your answers to the questions; otherwise, you may have a poor grade on your test.
The next thing you should do before you take your test at the New Bromley Driving Test Centre is to become familiar with the local area. This can be easily achieved with the help of a local driving instructor. It is is not a must, but it is always good to prepare yourself for your exam, just like any other exam.
The test will last around 40 minutes, and you will be given your result at the end. You will be asked if you would like your driving instructor to be present for feedback. This is generally recommended as your instructor will be able to help you further if necessary.
After you have received your result, if you're successful, they will ask if you would like your new licence sent automatically to your home address. The examiners will provide you with a pass certificate which will allow you to drive immediately.
If you would like to arrange a local Bromley driving school to help you through your driving test and help you learn the local Bromley driving test route, give us a call to see how we can help you!
Call us now!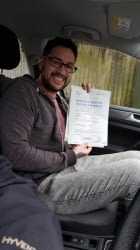 Latest posts by elsdrivingschool
(see all)